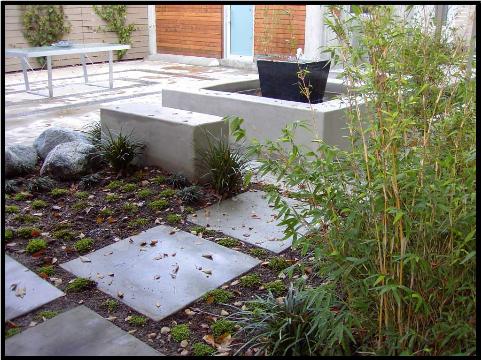 Scroll to bottom of page for a brief description of "California Landscape Contractors Association"



ABOUT THE OWNER- I started out in what would eventually be my present career in Landscape Design at a combined High school/technical school where I was introduced to architectural and mechanical drafting. I then attended college at New York Institute of Technology and selected my major in their Architectural/Building Program. I liked certain aspects of the program, but, as fate would have it at that young age, I was diverted to other design endeavors that let me get my hands in the dirt "right now" so to speak.

In New York I worked for large regional wholesale floral distributors, then moved on to working for a large family run chain of retail floral/nursery, plant shops where I gained some knowledge of plant materials and flowers. I then moved out to Los Angeles and worked for a few select floral design studios, two of them being "Zen" at the Bel Air Country Club/Hotel and "Jardineire Design Studio" in Brentwood.

I eventually opened my own plant(exterior) & plant(interior)maintenance and floral design shop in West Hollywood. After receiving and successfully performing an increasing number of requests from clients to design they're plant/flower gardens and draw concepts for hardscape structures and water features, I decided it was time to apply for my Landscape Contractors License. It combined my two great passions, structural design, combined with trees, plants and flowers. It gave me the structure of "hardscape" which I enjoyed in the "Architectural Program" at New York Tech, and the natural beauty of "natures creations" which I also loved while being employed by the Plant/Nursery Chain in New York. Most importantly, it also allowed me to build and install all my designs. The larger and increasing number of requests from clients flowing in on the horizon made this the next logical step.
This is so important..... Here it is again!
All successful landscape design installation begins with a complete plan to work from. Plant materials, hardscape, structures and all the inner workings must come into play, installing it properly requires a "master plan" to work from. My emphasis on a detailed design, covering all your choices of finishes, trim work and accessories are all a requirement to have a satisfactory outcome. If needed, I like to spend the extra time and effort at the design stage for the working out of any potential problems I feel we may later encounter.
___________
___________
References available upon request

---
---
---
Member of
"California Landscape Contractors Association"

The California Landscape Contractors Association is the nation's oldest and largest organization of licensed landscape and landscape specialty contractors. Although formal incorporation as a non-profit trade group came in 1952, CLCA can trace its origins to 1937, to a loosely-knit group with humble beginnings in the San Francisco Bay Area. Through its 18 state-wide chapters, the association fosters professional development and the sharing of information of mutual interests, so that members may further the industry and remain current with technological changes and standards.
_______________________________________________________________________________________
_______________________________________________________________________________________
Click on photo below to see article describing work performed by "Natures Art"
Click here for link to "Grand Tour Magazine" home page
You are on About Natures Art Page